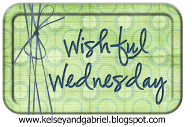 Today I'm along for the ride with
Kelsey
and dreaming about having those 'start up' funds for my consulting firm which would include marketing and design. Wow! Wouldn't that be great? Don't get me wrong, I do actually like my job
but
....if money was no object and I could start a whole new career, that's exactly what it would be. I would be able to work remotely from a beautiful, warm island (and travel whenever my husband was following Nascar). I would provide design of web-sites, blogs, and any type of marketing that would promote their product/business. Photography would also play a key role in their business to include photos of whatever it is they produce and/or sell. I would have all the technical equipment necessary and definitely own CS4. Yay!!
So, what about you?! Wanna play along today? Just click the "Wishful Wednesday" button at the top of this post and tell us all about your 'dream' job!
p.s. just in case you're intersted, while you're reading this, I am at my desk working at my 'regular' job. The 'start up' funds have not yet arrived, lol!